The MonoStereo is developed in collaboration with IRCAD-Taiwan, the most well-known minimally invasive surgery training and education center in Asia. Based on the objective observation on 7000 surgeons from 60 different countries trained in IRCAD Taiwan, and first hand input from 1800 international expert surgeons supervisors, the medical imaging with a software program which makes it possible to instantaneously transform High-Definition 2D images into 3D images intraoperatively.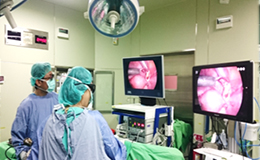 Integrates the 2D endoscope systems into 3D to provide surgeons depth perception which lack in traditional MIS surgery.
MonoStereo 3D features:
Available to monoscopic endoscope system and 3D polarized monitor.
Keep image quality and real-time calculate 3D endoscope video content.
Available to camera zoom and rotation.
Human factors: disparity control
Provide multi 3D format type.
2D/3D mode switch
Small size endoscope and multi-angles scope solution
Flexible endoscope with 3D solution
Advantages:
The Thermablate® EAS is made up of a Treatment Control Unit (TCU) and disposable cartridge, often referred to as a balloon catheter.
A TCU is: 
Fully automated
Simple to set up
Compact, lightweight 
 A Thermablate® procedure can be performed under local or general anesthesia with a quick recovery time and no side effects.
Potential Thermablate patients must meet certain criteria to be eligible for treatment: 
– Excessive uterine bleeding with no underlying causes
– Completed childbearing
– Pre-menopausal normal uterine cavity with sounding between 8cm and 12cm, inclusive
– Normal endometrial biopsy and pap smear in accordance with Clinical Practice Guidelines
Contraindications
It is important to rule out contraindications prior to treating a patient with the Thermablate system.
KEY FEATURES:
Keep 2D, See 3D
The beauty of Monostereo is based on algorithm. There is no need to change current instruments and endoscope system and lens, but have a 3D vision for surgery.
Keep 2D, See 3D. With Monostereo 3D endoscopic visualization system, hospitals do not have to throw the existing 2D endoscopic system away and replace them with the expensive 3D systems. The 3D visualization with the system allows novice surgeon to have a better understanding of the anatomical structures during the surgery. It also allows the experienced surgeon to get a quick help in a case of complex anatomy or a situation at risk of complications. 
Adjustable 3D effect
Surgeons will have the 3D vision with adjustable 3D perception for the surgeries.
Connect & work with most of 2D endoscopic system
Another distinctive advantage of MonoStereo, 2D to 3D system, accommodates both rigid and flexible endoscopes. In addition to that, this system allows the view angle to remain the same as in original 2D system and surgeons can adjust the depth perceptions to him or her best vision.
MonoStereo® 3D Endoscopic Visualization System could work well with any kind of current endoscope devices. In addition, the 2D-to-3D MonoStereo system accommodates both rigid and flexible endoscopes, allows the view angle to remain the same as in the original 2D system, and each surgeon can adjust the depth of perceptions to his/her best vision.An easy installation of the MonoStereo system along with a pre-existing 2D endoscope system allows the surgeon to use it easily, without changing the endoscope, camera, monitor or the workflow during the surgery. This system would also allow the surgeons to use endoscopes with different angulated optical lens (0°-30°-45°-70°) during the intervention. Therefore, the ease of implementation of the 3D system makes it suitable for experienced as well as a novice surgeon, and it does not obstruct any step in the surgical workflow.
Easily switch between 2D/3D mode
Another thoughtful design in MonoStereo is give control to all surgeons who may switch from 2D to 3D mode easily throughout the surgical procedure as their eyes get fatigued during long time operation. Moreover, the 3D system can easily connect to all kinds of endoscopes, cameras and light sources.