Bioss : Coloproctology
USGI : Enduluminal weight loss
Hydromedic : HPIC-HICT
MDTK : 2D-3D Convertor
Neurostyle : I0NM- intraoperative neuromonitoring
Endogastric Solutions : GERD Treatment
Bioss : Coloproctology
ANGIODIN-Procto
TREATMENT OF HEMORRHOIDS UNDER DOPPLER CONTROL

USGI : Enduluminal weight loss
Today's patient prefers treatments which are safe, effective, fast and with minimal discomfort. USGI Medical has a unique technology to help bring this desire to reality. In select gastroenterology procedures, patients now have an option with our patented Incisionless Operating Platform® to avoid many of the issues associated with traditional incisional surgery.
Utilizing small flexible instruments, our technology creates durable and permanent tissue folds to treat a variety of gastrointestinal indications. Tissue folds are held in place through our proprietary Snowshoe® Suture Anchors which help facilitate permanent tissue remodeling.
Hydromedic : HPIC-HICT
The Hydrocare is a reliable and ergonomic equipment designed mainly to attain, in optimum conditions, treatment with hyperthermic intraperitoneal chemotherapy (HIPEC), intrathoracic (HITC) and intravascular (HIVC).
Innovative heating system
The Hydrocare uses a low frequency induction heating system that provides an extremely precise temperature control throughout the fluid flow sequences :
The fluid flows in a serpentine biocompatible material. Thermal energy is transmitted to the coil fluid without hotspot or electromagnetic field that can change the characteristics of the fluid and chemotherapy :
– Almost perfect yield.
– Very low thermal inertia.
Steady fluid flow and accurate
The Hydrocare has a vortex pump head with a very precise control of the rotation speed :
– High reliability
– No risk of overpressure
– Maintenance free
The pump is equipped with a detachable rotor (vortex pump head or with wings) driven by a rotating electromagnetic field without moving parts.
In principle, this kind of pump is unable to create a dangerous excess pressure even if plugging of tubes.
Two pump modules are available :
A low-flow module 0 to 1.2 l/min ideal for HITV and HIVC (typically 0.5 to 0.8 l / min) and CHIV (typically 0.2 to 1 l / min).
High flow module, up to 4 l/min covers all other cases.
Compact, Complete, Efficient
The Hydrocare provides all the necessary steps to intervention :
– Airing circuit
– Preheating
– Filling
– Treatement
– Drain
The fluid switches necessary for the performance of these different sequences are performed by electro-pneumatic pistons that come pinching tubes without any contact with the fluid.
On request, specific HYDROBOX can be performed by HYDROMEDIC or directly by medical teams on the basis of an existing standard HYDROBOX to achieve specific clinical trials.
HYDROBOX sterile disposable
HYDROMEDIC offers standard HYDROBOX :
– For HIPEC interventions aimed at "closed womb" and "open belly"
– For HIVC and HITC
Fast implementation
All contact with the fluid elements met in a sterile disposable HYDROBOX that installs in one motion on the basis of the unit.
The implementation requires no attention from the surgeon and is usually carried out by technicians.
Ease of use
The Hydrocare has a panel PC with an adapted touch screen, ensuring both ease of use and reliability.
With the touch screen, the operator can access all the functions of the Hydrocare :
– Fine adjustment instructions and safety thresholds (alarms)
– Display of all measured values ​​(temperature, pressure, flow, volume)
– Display and the progress of the operation state
Implementation
– The panel PC with the touch screen is easily installed on the gallows
– At power, the program starts automatically
– A complete restoration of USB system is provided
Most of the system :
– Access to controls via a touchscreen
– Automatic registration steps
– Create labels for external events
– Possible change the wording of temperature measurements
– Ability to add temperature measurement sensors during operation
MDTK : 2D-3D Convertor
MonoStereo Visualization System
MonoStereo Visualization System designed to have the stereo visualization from monoscopic image during the Minimally Invasive Surgery (MIS). It provides real-time display and adjustable 3D effects to minimally invasive surgery.
Since 2D rigid and flexible endoscope are both emerging tools for MIS and interventions, unfortunately, depth perception is lost in 2D endoscopic capturing and display. It makes surgical and interventional tasks harder and difficult to recognize the tissues lesions.
The system works well with all HD 2D endoscope systems, not only keep 2D features as room-in, room-out and rotation, but also see 3D effects with depth perception and adjustable 3D disparity.
Neurostyle : I0NM- intraoperative neuromonitoring
SMART IONM
The NS-SIOM-1E is a touch-screen, user-friendly intraoperative monitoring system available in 4 or 8 channels, which has wide applications for use during different types of surgery.
This device helps reduce the risk of nerve damage during surgery and identify nerve functions before the end of surgery through monitoring of triggered EMG activities in multiple cranial and peripheral nerves. NS-SIOM-1E is applicable for Facial Nerve, Thyroid, Spinal, ENT and other general surgeries.DOWNLOAD PDF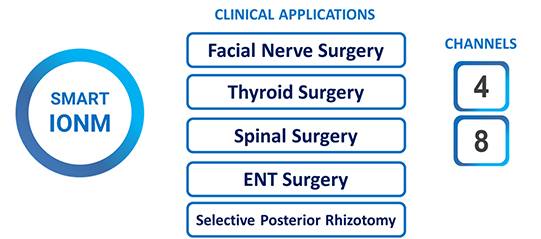 Endogastric Solutions : GERD Treatment
EsophyX® Device
EsophyX Device: Innovative Technology Making Transoral Reconstructive Surgery Possible
The EsophyX device is designed to reconstruct the gastroesophageal valve (GEV) and help restore the GEV's function as a reflux barrier. It is used to perform the TIF® procedure — Transoral Incisionless Fundoplication — by enabling the creation of a 2-3 cm, 270° esophagogastric fundoplication. The device is a fastener delivery system and utilizes proprietary tissue manipulating elements to deploy approximately 20 SerosaFuse fasteners. A flexible video endoscope is inserted into the central lumen of the EsophyX device to provide direct visualization throughout the TIF procedure.
Helical Retractor

Engages and retracts tissue
Anchors gastroesophageal junction during fundoplication
Stows/locks safely inside tissue mold during insertion and removal

Tissue Mold and Chassis

Plicates and compresses tissue
Rotates fundus around esophagus to create partial wrap

Invaginator

Suctions tissue circumferentially
Reduces small hiatal hernia
Facilitates proper position of fundoplication caudal to diaphragm

Stylets and SerosaFuse® Fasteners

Transect apposed tissues
Fasteners maintain tissue compression throughout healing process